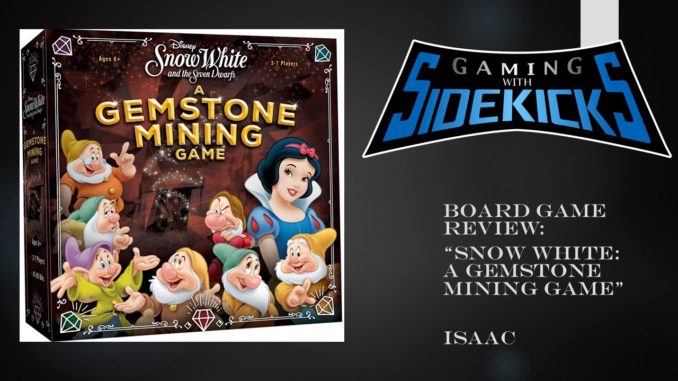 Every classic Disney story is ripe for boardgame material. Who wouldn't love to go under the sea and build a reef with Ariel, play a real-time racing game to get to the ball and home before midnight with Cinderella or find a way to win in a turn-based combat game with Mulan? Playing Mickey and the crew in a role-playing adventure would be another great design right? But I think USAopoly may have given us the game we wanted the most but never even realized it-and it all begins with "hi hooooooo, hi hoooooo….."
Snow White and the Seven Dwarfs A Gemstone Mining Game is the newest release from USAopoly and it is off to work we go as one of the Seven Dwarfs fetching gems for Snow White while trying to earn those precious pies straight from her kitchen. The game is designed for 3 to 7 players ages 8 and up. The game is based on Quartz, designed by Sergio Halaban and Andre Zatz published by Passport Game Studios. This version was designed in colaboration with Andrew Wolf and Scott Morris with graphic design by Rick Hutchinson.
Components:
64 Action cards
7 Chest cards
10 Snow White cards
90 Pie point tokens
7 Experience tokens
68 Gems
1 Main game board
7 Dwarf tokens
7 Dwarf boars
1 Day marker
1 Mine bag
Gameplay:
The game can be played in a basic or advanced mode. To play in advanced mode you simply adds Reaction cards that can be played against Action cards. Setup requires each player to pick a Dwarf and take the corresponding Dwarf token and Mine Cart player board. Each player also gets a Chest Card and 5 Action Cards. Set up the rest of the game with the central game board to track the Mining Days (Ronds ) which are 5 total, all the Gems in the bag, all the Pie Points which are used to keep score, the rest of the Action cards face down and the Snow White Cards
The basic gameplay takes place over 5 rounds where you and the rest of the Dwarfs will go into the Mines and try to earn the most Pie Points from Snow White!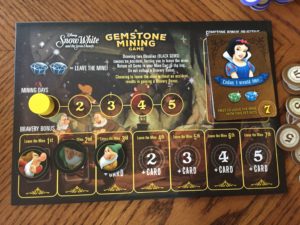 On your turn a player may do one of three things. They are Mine a Gem, Play a Card or Leave the Mine.
In Mine a Gem, a player simply reaches in the bag an draws a Gem out to place on their Mine Cart player board. There are may different Gems to Mine and the only bad ones are the Obsidian Gems. If you get one, it isn't the worst thing. But if you receive a second you are forced to leave the mine with nothing of value!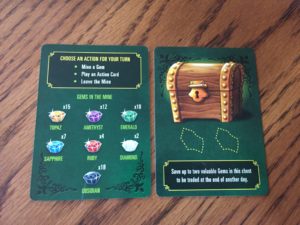 In Play an Action Card, a player may chose to play one of the action or reaction cards from their hand. Each card has an action and some of the ones that effect other players have specific reaction cards that can be played to stop or change the effect.
In Leave the Mine, A player can chose to leave the mine with the Gems you already have up to this point. At that time you will set all Gems aside to add up at the end of the day and place your Dwarf token on the space on the main game board in the order you left the mine. There is a Bravery Bonus for what order you left the mine as well.
However, if you are forced to leave the Mine because of an accident, which would be drawing a second Obsidian Gem, then you lose all of the Gems you have acquired to that point back the bag, place your Dwarf token dark side up and you don't get the Bravery Bonus.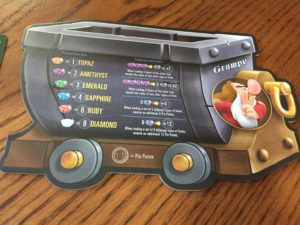 If you suffer an Accident you draw an Experience Token that can be used on another day to prevent an Accident from happening. You can have one at a time, and any left at the end of 5 days can be scored as 3 points.
At the end of each day once all Dwarfs have either exited by choice or left from an accident the players who still have Gems can trade them for Pie Points to Snow White. Each Gem has a rarity and amount of Pie Points it is given and there are bonus points based on combinations of same or different types of Gems. Each player may only use one bonus a day and may save Gems on the Chest card to use the next day if they choose.
Impressions:
What could be better:
Action Card selection: I would love to see a little more variety in these cards-maybe some different choices that could be used to help yourself in gameplay while in the mine. The ones included are all great, just some extra variety would be nice.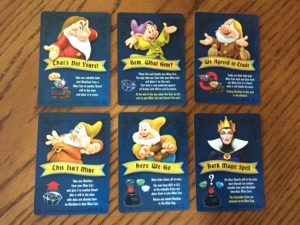 Take that: If you or your group of gamers don't like "Take that" mechanics in your games, this may not be a game you like. You have to have a group that is ok with some back and forth and attack type of actions. It isn't extremely aggressive but it is enough to cause some reactions from those that don't like that style. I especially saw it with younger players.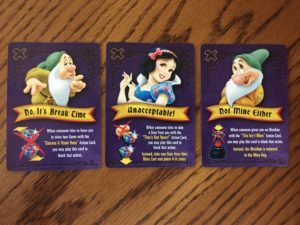 Dwarf markers/Pie Points: I would love to see some Dwarf tokens that weren't just the flat tokens but instead were some minis of each Dwarf. I think it would add just a little more pizzazz to the style and substance of this game and give it another fun pop. I would also love to see some metal coins to go with the Gems in this game, giving the Pie Points a little extra.
What I liked:
The components: I really love the aesthetics of this game. The player boards and cards are well made with great art on them from the Snow White story. The Gems are great and give just enough of a little shine to them to stand out-they are the right size and shape to make them easy to pick up for little kids smaller hands.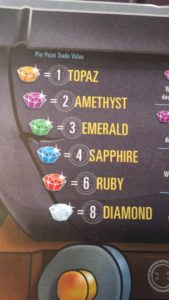 Time: This is not a long drawn out play of a game. It is one we can get set up, played and put away in less than an hour total. When you are playing games with the family this is a shelf staple you can just grab and go with it. The ease of learning and gameplay will really help this one get to the table often.
Gameplay: I have never played Quartz, but I had heard good things about it. The style of this game is solid and the gameplay is smooth. I like the push your luck mechanics and the simplicity of learning how to play and jump right in to a game. It is competitive and the interaction between players is there without being too aggressive. It doesn't feel like multi-player solitaire which it easily could.
Overall:
There is little not to love about this game. USAopoly really knocked this one out of the park-giving us a great port of an old game with a fresh look. Set collection and push your luck mechanics make this game really shine and the theme pushes it over the top. Being able to take your pick of one of the Dwarfs and race in the Mines to impress Snow White while earning those all important Pie Points from her make the theme on this game a real treasure. This has been a consistently requested game in our house and I expect it to continue to be! Make sure to get your hands on this game and enjoy your working trip down into the Mines!